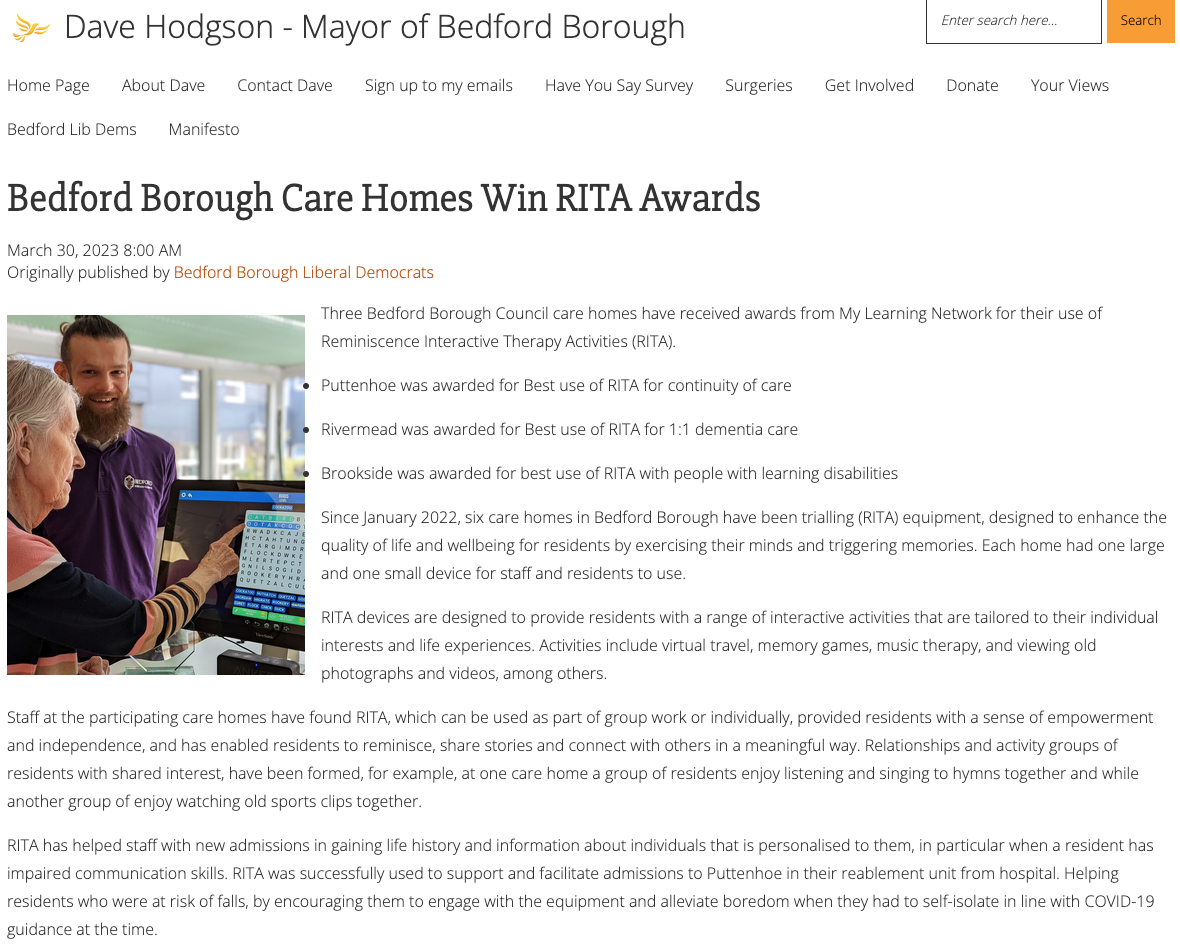 Three Bedford Borough Council care homes have received awards from My Learning Network for their use of Reminiscence Interactive Therapy Activities (RITA).
Puttenhoe was awarded for Best use of RITA for continuity of care
Rivermead was awarded for Best use of RITA for 1:1 dementia care
Brookside was awarded for best use of RITA with people with learning disabilities
Since January 2022, six care homes in Bedford Borough have been trialling (RITA) equipment, designed to enhance the quality of life and wellbeing for residents by exercising their minds and triggering memories. Each home had one large and one small device for staff and residents to use.
RITA devices are designed to provide residents with a range of interactive activities that are tailored to their individual interests and life experiences. Activities include virtual travel, memory games, music therapy, and viewing old photographs and videos, among others.
Staff at the participating care homes have found RITA, which can be used as part of group work or individually, provided residents with a sense of empowerment and independence, and has enabled residents to reminisce, share stories and connect with others in a meaningful way. Relationships and activity groups of residents with shared interest, have been formed, for example, at one care home a group of residents enjoy listening and singing to hymns together and while another group of enjoy watching old sports clips together.
RITA has helped staff with new admissions in gaining life history and information about individuals that is personalised to them, in particular when a resident has impaired communication skills. RITA was successfully used to support and facilitate admissions to Puttenhoe in their reablement unit from hospital. Helping residents who were at risk of falls, by encouraging them to engage with the equipment and alleviate boredom when they had to self-isolate in line with COVID-19 guidance at the time.
Sandra, a resident at Puttenhoe said, that she "likes to do words searches every day as it keeps her brain going" and that "the exercises are fun too".
Councillor Dean Crofts, Portfolio Holder for Adult Services said, "Well done to staff and residents at our Care Homes for embracing this new technology. We are delighted to have been a part of this trial of RITA equipment. This technology has the potential to significantly enhance the quality of life for our residents, and we are excited to see the impact it has had on their wellbeing."
With both staff and residents benefiting from RITA, the council is considering as to how this technology can be rolled out to other homes and possibly into the wider community in the future.