9 Reasons why you should become a RCN Delirium Champion
Delirium is a common and serious medical condition that can affect anyone, especially those who are older or seriously unwell. Someone with delirium will experience a sudden state of confusion, leaving them feeling disoriented and struggling to pay attention or make decisions.
YOU CAN MAKE A DIFFERENCE IF YOU RECOGNISE DELIRIUM EARLY AND ESCALATE IT!
Below are 9 reasons why you should sign up to be a Delirium Champion with the Royal College of Nursing, I have only listed 9 but there are many more!
1. REDUCES FALLS AND FURTHER INJURY
Older people with delirium are at an increased risk of complications such as falls, accidents or pressure sores. Delirium can have an impact on mobility and movement, a person who is unsteady or moving less can be showing signs of delirium and this should be acted on.
2. LEARN
Becoming a RCN Delirium Champion means that you have the opportunity to gain an insight into delirium and learn about the signs/symptoms. This increased knowledge on the topic means that you will be more likely to be able to spot the signs of delirium in order to improve care and even save lives.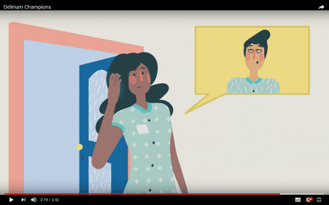 3. EARLY RECOGNITION
Having increased knowledge of delirium increases your ability to recognises the signs. There are many changes in a person which can be recognised as delirium and these should then be acted on.
ACT IF YOU SPOT DELIRIUM–FOLLOW YOUR ESCALATION PLAN
To reduce the risk of increasing numbers of 999 calls in the community.
4.BECOME A CHAMPION
Becoming an RCN Delirium Champion means you will have enough knowledge to be able to teach others, and cascade your knowledge to colleagues.
5. RAISE AWARENESS
Delirium is common and usually temporary; however, it is not easily diagnosed. Your new knowledge is great to help raise awareness. Similarly, signing up to be an RCN Delirium Champion is a great way to help raise awareness on the topic.
TEACH YOUR COLLEAGUES ABOUT DELIRIUM.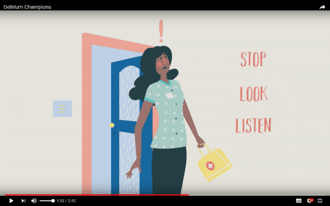 6. BECOME PROACTIVE INSTEAD OF REACTIVE
Becoming a Delirium Champion means you will learn to recognise the signs of delirium therefore being proactive. You will know the signs, and know how to deal with them meaning that the situation is calm and doesn't escalate.
7. MAKE A DIFFERENCE TO PATIENT CARE AND POTENTIONALLY SAVE LIVES
Knowing the signs of delirium and being able to act and support people with delirium means that you are improving the care of people with delirium. You know how to care for them properly and this can help to save lives.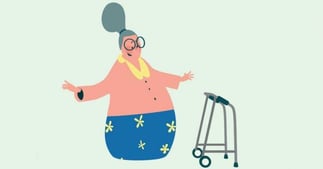 8. CAN MAKE PATIENT AWARE OF DELIRIUM
It is important to have effective communication and to reassure people diagnosed with dementia, you will have the methods in place to do this. Also, you can consider involving family, friends and carers who are familiar to the person at risk to help ease and calm them.
9. INFORMATION AND SUPPORT
By being an RCN Delirium Champion, you are able to offer information to people who are at risk of delirium or those who have delirium. This will help to encourage people at risk to let you know if there are any changes or fluctuation of behaviour.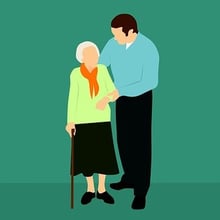 All 9 points are fantastic reasons why you should sign up.
The Royal College of Nursing and My Improvement Network are doing a great job of raising awareness of Delirium – but we still need your help!
Sign up today to become a Delirium Champion- http://bit.ly/2xtBTyj
Visit – www.rcn.org.uk or www.myimprovementnetwork.com
If you would like more information please contact siobhan@myimpovementnetwork.com